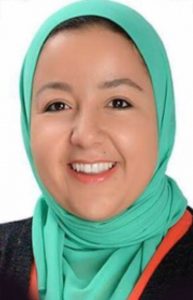 Ms.  Rohaiem holds a bachelor in Business Administration from the American University in Cairo (AUC) with a minor in Economics. She started her career as a marketing consultant at IMS (Integrated Marketing Solutions). She was responsible for developing and fully executing the marketing plans set for the company's clients, including all media plans, launch campaigns and marketing communication programs. During her work as a researcher, Ms. Rohaiem was responsible for carrying out all the research assignments of the company, covering both research types, secondary and primary, as well as undertaking designing of the research tool, data cleaning and analysis, and finally presenting the findings to the client. Some of the industries in her work scope were: computer and software, banking services, press and publishing, paper and printing, paints, mechanical and electronic security solutions, pharmaceuticals, food and FMCG, real estate, and automotive. Ms. Rohaiem then joined Juton Paints for 3 years as marketing manager where she played a major role in turning around the business and rationalizing the retail plan for the company.
Ms. Rohaiem is currently working as a freelance consultant for Edge Egypt, focusing on retail management, and providing the Egyptian and regional markets with a variety of retail and franchise services. 
Ms. Rohaiem holds a Master's degree from AUC in business administration with a double concentration in Marketing & international business with honors. She is a part-time PhD Student at Maastricht School of Management, with intended thesis in Retail Management by end of 2019
Ms. Rohaiem has more than 16 years of experience in planning and conducting trainings for several national and multinational organizations in the following areas: Management, Team Building, Communication, Customer Service, Trade Loyalty, and many more. She is also a certified trainer from the University of Wisconsin Milwaukee, School of Continuing Education since 2009.