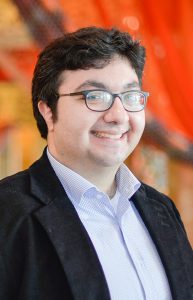 Mr. Rohayem is The Sales and Marketing Manager at Edge for Training and Consulting. He also consults lo- cal SMEs and startups in establishing and remodeling their commercial departments, as well as training a number of companies on the basics of marketing, sales, and retail management.
Mr. Rohayem holds a Bachelor's degree in Business Ad- ministration from the American University in Cairo with a specialization in Marketing.
He has a wide range of a hands-on experience since he was interning during his college days at Shell Marketing, Air Liquide, Vodafone, and nally Unilever Mashreq.
Mr. Rohayem started his professional career 10 years ago and assumed several marketing, sales, and business de- velopment roles both in the GCC and Egypt at various FMCG companies. Throughout his career, he sealed the following achievements:
Managing marketing campaigns in more than 14 countries across MENA region.
Looking a er the trade support and sales target planning in addition to monitoring the performance of various sales channels across Egypt.
Doubling the modern trade channel's sales and increased its contribution to the total business. Leading the "Model Store" project that dictates the perfect execution and marketing tools for various sales channels.
Delivering award-winning marketing plans and joint promotions.
Mr. Rohayem received several training programs across his profession such as:
The 7 Habits of Highly E ective People.
Retail Category Management.
Customer Marketing.
Driving performance with retail audit analysis.
Marketing and Selling Consultancy Services.