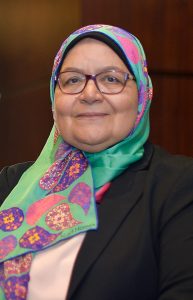 Ms. Mansour is both an educator and manager. She is the founder and the managing partner of EDGE for training and consultancy, overseeing all administrative and logical aspects of the training programs from start to end. Her role entails leading the company's team of trainers and faciltators, maintaining the quality standards for programs' cur- riculum and instruction , promoting the company's programs, faciliting needs assessment for clients, and developing new curriculum.
Ms. Mansour held faculty and administrative positions at the School of Continuing Education in the American University in Cairo from 1982 till 2008 , during which she doubled the division's customer base to more than 100 contracts per year, in- creased the number of customized courses o ered and expanded the division's instructional team both in members and areas of specialization.
In addition to her regular administrative duties, Ms. Mansour is actively involved in advancing the eld of Human Resourc- es in Egypt. In 1994 she established the rst ever Blue Ribbon Committee. Since its formation, this committee encom- passed more than 45 clients in Egypt and the region and aims at exchanging information about issues facing Human Re- sources professionals working for private and multinational organizations.
Ms. Mansour earned her M.B.A. from the American University in Cairo and holds two diplomas in
Business Administration and Management, both with high honors.
Ms. Mansour is a member of the American Society for Training and Development (ASTD) and regularly participates in pro- fessional developmental activities including conferences, forums, and workshops held in Egypt and abroad.